IoT sim card
The sim card for a reliable connection over multiple carriers
A IoT sim card (also known as M2M sim) is a sim card that is commonly used in devices, IoT in the name stands for Internet of Things. Most of the devices using an IoT sim card communicate to the cloud, such as GPS trackers. As mobile data continous to become more afforable the costs to entry decreases and allows you to connect devices and appliances to the the internet at an increasingly lower price.
IoT sim card for the world
World SIM
Where most providers offer region restricted subscriptions we offer global coverage for most of the world with over 500 networks supported, the US, Canada and extended Europe are included in our default Coverage plans.
Transparant fee
The price for an IoT sim card is often clear and transparant, with Open M2M yo ucan get started for under a €1 without any contract or commitment. You can pay with credit or prepaid
> To pricing
Suitable for small data usage
Our sim cards are most commonly used for data consumption under the 100 Megabytes.
A tough sim card
Standard
Industrial
Form Factors
2FF/3FF/4FF & Embedded
Processor
SC000 32bit
ARM Cortex-M3 32bit
User Memory
480Kb
512Kb
Life expectancy
25 years at 25°C
30 years at 25°C,
10 years at 105°C
Voltages
1.8v, 3v and 5v
Erase/Write cycles
100,000
500,000
Erase/Write cycles per 64Kb
10 Million
50 Million
Power saving standby
yes
yes
Standard
Industrial
Page erase time
4ms
OTP user Bytes
256 Bytes
128 Bytes
Asyncrhonous ISO 7816-3
CPU Clockspeed
Up to 28Mhz
up to 15Mhz
Usage in accordance with GSM & ETSI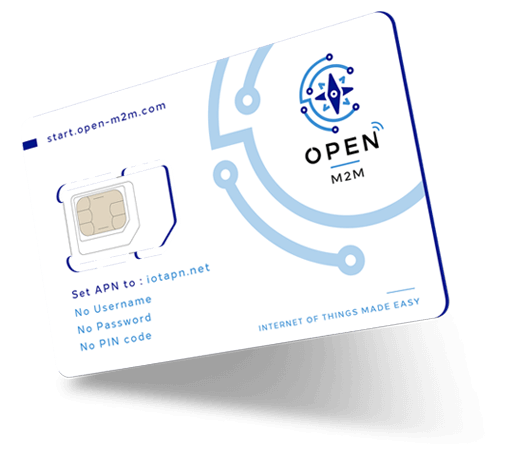 SIM card form factors
By default we supply a 3-in-1 sim card that the supports most common for factors. Additionally we can supply Industrial grade or embedded sim cards for use in production proceses.
2FF - Mini (25mm x 15mm)
3FF - Micro (15mm x 12mm)
4FF - Nano (12.3mm x 8.8mm)
MFF2 - embedded SIM form factor
Always SIMs in stock
As your business is dependent on our connectivity we understand the need to keep our SIM cards in supply, our policy ensures we always have stock of sim cards. Additionally you can acquire extra sim cards from us and keep them in stock yourself at no charge.
Be carrier indepdent using eSIM / eUICC
We can understand the need for some companies to desire indepence from their current carrier and to guarantee easy transition in the future, we can offer the option to swap carrier using eUICC technology when using special eUICC enabled sim cards.
Frequently asked questions
Aan de slag met een M2M IoT simkaart?


Open M2M is the platform for all mobile IoT technology to facilitate 'machine 2 machine' communication with quality and ease of use as its core values.



Please let us know if you have any suggestions or ideas for our platform.
All prices exclude VAT unless specified otherwise.
Contact
Wilhemina van Pruisenweg 35
2595 AN, The Hague
The Netherlands